thought I'd post a text version too..
This is a simple fry saver that I use for when my fish breed. The benifits of using a fry saver is that the fry can be allowed to grow for a few weeks in water that they are accustomed to without risk of shocking them with different water parameters when moving into a growout tank. Once the fish look strong and healthy is a good time to move your fry..
Mine are made from ice cream containers like the ones found at ice cream shops but any container or bucket may be used.
First I get the container and cut out 4 windows on the sides and one each on the ends. These windows are important as they allow fresh,clean, oxygenated water to pass freely through.
You then simply cut out some lengths of flywire that will cover your holes. It is better to make these oversize as they need to be siliconed over your windows to prevent your fry from escaping. Make sure they are sealed properly.
You will then need to cut a ring of styrofoam to the size container you are using. I usually use foam that is around 20mm thick as this will allow for a strong floatation. This allows for you to put in a few rocks or cover for your fry to hide in when its in use.
Once the flyscreen is dry its just a matter of sliding the foam on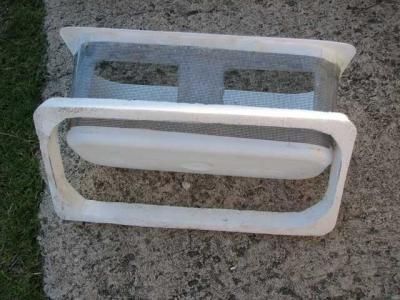 and a top down view